Projects

Boost for Welsh in Garthmyl!
Brookfield Day Nursery in Garthmyl is to provide two sessions a week in Welsh. This facility will only further enhance the 3 year old fundededucation that the nursery currently provides. They have joined Mudiad Meithrin (www.mym.co.uk) whitch supports Welsh medium settings throughout Wales. They have also had help from Menter Maldwyn (www.mentermaldwyn.org)who have translated materials for them. The owners of brookfield says "we are very exited by this new venture and have been delighted by the support and enthusiasm of our parents". www.brookfieldchildrensnursery.co.uk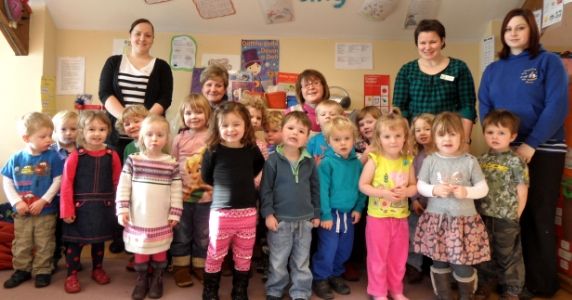 .
.
.
NEW TANAT VALLEY GUIDEBOOK
The booklet contains a car journey along the valley, and individual walks around the villages of Llansilin, Llanrhaeadr ym Mochnant, Penybontfawr and Llangynog.

Over the last 18months(2010), a group of local people have come together on a regular basis following a consultation which took place in the valley.

The aim was to find out what local people wanted to see happen in the
area based on a Language heritage project.

The project was funded by the Welsh Language Board through the local Language Initiative, MenterMaldwyn.
Following discussions amongst the local working group, the following steps were agreed upon:
To publish a bilingual guidebook for visitors to the area which would detail places of historical importance in the area;

To set up a website which would enable local groups and societies to advertise their events, and give local businesses the opportunity to advertise their services, as well as giving more information on this area which is so significant in the history of Wales; and

Ensure that "Dyffryn Tanat – Welcome" signs are erected one either end of the valley in Llangynog and Pen-y-bont Llannerch Emrys.
Menter Maldwyn's Community Work
Menter Maldwyn's most important work is that which it does in developing communities. Developing the Welsh language from it's occasional use on special occasions to a language which can be used on a daily basis in any situation in the community. Listed below are some of the types of development work which is undertaken on an ongoing basis:-
Creating opportunities to use the language via the Area Working Groups and specific projects.
Translating – an allocation of 2,000 words free of charge initially for voluntary bodies, and thereafter charging £40 per thousand words for individuals, voluntary bodies and businesses. We can also provide translation equipment as well as a simultaneous translation service.
Providing information leaflets, and a one-stop-information shop about everything Welsh.
Responding to opportunities in communities which arise from time to time, e.g. an opportunity to send information to shops and factories which are new to the area, arranging meetings and public meetings in order to air opportunities and ideas.
Meeting with community groups in order to raise awareness of the Welsh Language and to market the services provided by Menter Maldwyn and the Welsh Language Board.
Receiving each of the four Papurau Bro produced in the county - Yr Ysgub, Seren Hafren, Plu'r Gweunydd, and Blewyn Glas – as well as the Cymro, Yr Herald Cymraeg and Golwg for the purposes of collecting and sharing information.
Raising awareness of officers of public / voluntary sector organisations in relation to weaknesses in Welsh Language provision, and arranging meetings as appropriate.
Working together with our partners in the county (Mudiad Ysgolion Meithrin, Merched y Wawr, TWF, the Young Farmers Clubs, Powys County Council, the Urdd, the Machynlleth Language Action Plan, Peripatetic Welsh Teachers Team, Coleg Powys, Welsh for Adults Tutors) through the county forum in order to share good practice and to avoid duplicating work.

---

Lleuwen Steffan

Battle of the Bands – Gwyn Maffia adjudicating




Newtown





Meifod




Gwiber



---
Partneriaeth iaith yn gweithio gyda'i gilydd
Contact Details
Menter Iaith Maldwyn
Y Groes
Stryd Lydan
Y Drenewydd
Powys
SY16 2BB
E-mail:- post@mentermaldwyn.org
Phone:- 01686 610 010
Mobile- 07805843726